When you're facing issues with pests and want to attempt a pest control, do you know where to find their nests or hideouts or have the ability to recognize the tell-tale signs of a pest infestation?
Are you sure of what the target pest species are and the right treatment suited for the targeted pests? Pest control is a coordinated and sequential approach to the control and management of pests.
This coordinated approach is outlined in the four key steps to pest control. In this series, will focus on the target pest – cockroaches.
You can dream of having a house that is clean and pest-free. However, the sight of cockroaches can cause you great anxiety and fear. And it will be of great inconvenience if you don't know how or where to begin if you want them out. That is why you must hire a professional pest controller.
A professional pest controller employs these 4 key steps when dealing with cockroaches
1. Inspection
Most cockroach infestations start in the kitchen, bathroom and dark areas because of the food, warmth and moisture so the inspection is prioritized in these areas. The "hotspots" are behind or under refrigerators, stoves, microwaves, sinks, in and around floor drains, crawl spaces, basements, cracks and crevices in cabinets, behind wall mounted pictures and under floor mats. You will be looking for the tell-tale signs like adult cockroaches, juvenile cockroaches, egg casings, droppings, dead cockroaches and/or body parts and musky odor. When one or more of these tell-tale signs are observed, it tells you how widespread the cockroach infestation is.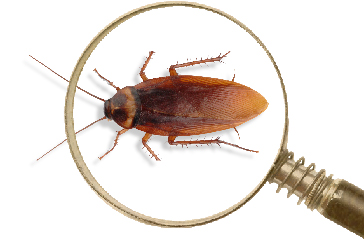 2. Identification
There are approximately 4,000 species of cockroaches worldwide and identifying the correct species is important. The two most common domestic species are the German cockroaches and American cockroaches. They both vary in size, appearance and habitat.
German cockroaches are tan to light brown in colour with two parallel stripes that run from the head to the abdomen. They are commonly found in the kitchen. The female German cockroach carries the egg casings on its abdomen until the eggs hatch.
Picture of German Cockroach
Picture of American Cockroach
The American cockroaches are largest of the two species. They are reddish brown in colour with two almost identical spots on their heads. They prefer dark moist areas near drains, crawl spaces, basements and sewer systems. The female American cockroach deposits the egg casing on surfaces like the walls before the eggs hatch.
3. Recommendation
There are preventive measures that a professional pest controller will put forward from the inspection findings. These are good practices to keep away cockroaches. These preventive measures are cleanliness of food prep areas and sinks as cockroaches are constantly looking for food, store food in tightly sealed containers, empty kitchen wastes regularly, declutter and tidy up loose items like books and newspapers and put away in the right place, eliminate sources of water whether from leaky pipes or standing water and seal up entry points especially ones that are on the outside of the house.
4. Scope of Works (Treatment)
Now that all actual and potential harbourage areas are known, a range of safe and approved chemicals or pesticides are applied. The chemical treatment compliments the preventive measures. The pesticides come in various forms and they are applied in standardized methods which are residual, powdering, gelling and baiting.
Residual (liquid) spray is applied in and alongside skirting boards, permanent fittings, wall voids, window sills, doorframes, empty cupboards and to base of interior and exterior walls to eliminate cockroaches.
Pesticide powder is applied to target areas such as all cracks, crevices, electrical fittings, under fridges, stoves, power points, wall voids and ceiling areas.
The tiny particles of powder are ingested by cockroaches. The particles of powder are also passed onto other cockroaches through contact.
Gelling is done mainly to food preparation areas where residual spraying is not practical. The gel is a slow-acting pesticide with a combined food attractant. The gel is applied to corners and edges in the kitchen cabinets, under sinks, under electrical appliances and stove and other areas where cockroaches prefer to hide.
Apart from gels, there are plastic bait stations that are used. These bait stations are placed against corners and edges of cabinets and the paths commonly travelled by cockroaches. The cockroaches find and ingest the baits and crawl away to die.
Want to know more about how to prevent cockroaches or have a professional inspect your property for cockroaches? Contact our expert team today.